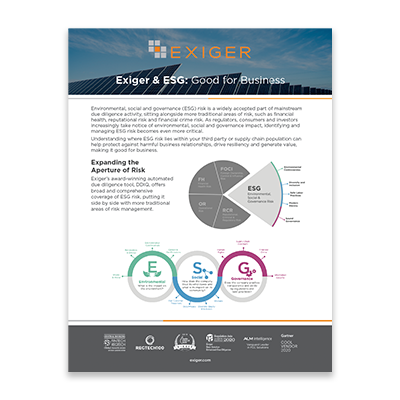 Learn More About Our ESG Offerings
Understanding where ESG risk lies within your third party or supply chain population can help protect against harmful business relationships, drive resiliency and generate value. Exiger's award-winning automated due diligence tool, DDIQ, offers broad and comprehensive coverage of ESG risk, putting it side by side with more traditional areas of risk management.
Exiger Perspectives: Why ESG is Good for Business

Tom Fox's FCPA Compliance Report Episode 545: Exiger's Laura Tulchin on the Year Everything Changed for ESG

ACAMS Today: Why Diversity Can Strengthen Anti-Financial Crime with Exiger's Samar Pratt

IIB Bank Talk: Erika Peters, Laura Tulchin & Jon Ball on ESG through Vendor/ Operational Risk Management

Bloomberg Law: 'Green-Washing' Lessons for Financial Crime Compliance Programs by Exiger's Jason Holt

Tom Fox's ESG Report: Laura Tulchin, ESG Solutions Lead at Exiger talk about doing ESG right.

NewsNation - The Donlon Report: Measuring Climate Risk in a Holistic Framework with Exiger's Laura Tulchin
Elevating ESG Transparency

As regulation in the ESG space grows, companies are waking up to the fact that implementing robust ESG programs isn't just good for the world . . . it's also good for business. Understanding how to identify ESG risk, and how that risk fits into overall risk management programs, is key to meeting the challenges and opportunities in this increasingly important area.

Laura Tulchin

ESG Solutions Lead, Exiger